DIGITAL INFRARED THERMOMETER NON CONTACT human skin -SHOU ZHUO-PRE ORDER ONLY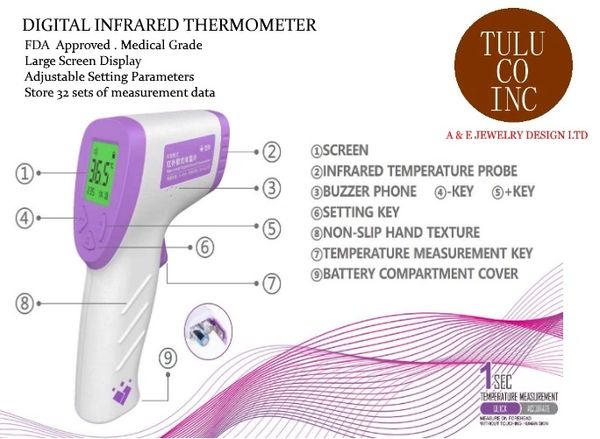 DIGITAL INFRARED THERMOMETER NON CONTACT human skin -SHOU ZHUO-PRE ORDER ONLY
NON-CONTACT DIGITAL INFRARED THERMOMETER
PRICE $55.00

CERTIFICATES ; CE - FDA- ROHS (COMPLIANT)  ; 
1.Convenient to use;exquisite, convenient to carry, easy to operate , and good experience.
2.Non-contact ; measure the forehead without touching the human skin to avoid cross infection.
3.Fever alarm;set the alarm temperatures you need
4.Use times; 100,000 times
5.Large - screen display ; large - screen LCD back light display , suitable for reading at night
6.Storage data; store 32 sets of measurement data s for easy analysis and comparison .
7. Setting modification;the setting parameters can be modified
8.Unit conversion; ClesiusC and Fahrenheit f can be converted to each other
9.Working environment ; temperature 10*c - +40*c, humidity 85% RH, non-condensing,atmospheric pressure 70kpa-kpa
10. Strorage /transport environment 10*C + 55*C, humidity 93% RH, non-condensing , atmospheric pressure 50kpa-- kpa
100% satisfaction
Price can be change with our notice